It's become apparent that guitar playing for me has really been a vehicle to learn other instruments. Everything is easier than playing guitar like my heroes. This blog will be about those heroes. If I have time to finish it. One thing I'll keep repeating is "country lead style" and "Tele playing" -- these are the same things when I write it.
My dad taught me some chords in 1986. As a lefty, I tried to play left-handed on a converted Sherwood archtop that was bigger than me. I picked up standard right-hand guitar in 1987. Soon afterwards, I got my only electric guitar in 1987. I played it for a year or so, then put it in it's case until 1992. It was then that I was inspired by the grunge rock thing, but played mostly my acoustic Harmony Sovereign (1260).
My first hero and first CD purchases (it was that long ago): Jimi Hendrix. Songs like The Wind Cries Mary and Castles Made of Sand are my favorite flavor. Stevie Ray Vaughan started the study of music for me. Particularly his cover songs on the then recent release called In The Beginning. His soul, like Hendrix, is so prevalent in his playing. I figured I needed to know a lot about his heroes to get somewhere. That led to the fond, intense study of Buddy Guy, Robert Johnson, Elmore James, Otis Rush, and Hubert Sumlin the guitar player for Howlin' Wolf. There were others Stevie cited: Muddy Waters, B.B. King, Albert King and Albert Collins, but I didn't get into them as much. Chuck Berry is also one of the main guys I checked out in the early days. Well, I guess I got bored with the blues. I love it, but only if it is great, and I didn't think I was going to be great. My limited vocabulary of old blues masters is priceless nonetheless. That's the background I had when I heard The Loved Ones, as detailed in my previous blog.
By late 1992 at 19 years old, I had enough chops to visit home and start a musical dialogue with my dad. He lived only 30 miles away. He emphasized alternating bass and strum which he always calls "rhythm patterns." That was such a gift. Yet he was particularly harsh about my vocals, which was not such a gift. I learned a repertoire of country songs from my maternal grandpa's old records and CDs I bought. I typed lyrics and wrote out the chords. It was a big committment for a non-country singer to undertake. But I thought it would be worth it for the common language with pops.
A little later, my dad started to collect Telecasters. He returned from the bay area once with a Star Licks instructional video of Albert Lee (check out this alternate intro from it), and everything I knew about guitar simply did not apply. Country lead guitar is the style I have spent the most time studying with the least discernable improvement. This section breaks chronology a little, because I've had various bouts with the country lead style: 1993-94, 1998, 2000, 2002-03, 2005. So I learned background bits during each revisit. Albert was into James Burton, Jimmy Bryant, Chet Atkins and Cliff Gallup. Those guys are phenomenal and totally alien to me, but I only really got into James burton and a little into Jimmy Bryant. Burton is truly a pioneer, playing many great solos people usually think are someone else. Like Buck Owens' Open Up Your Heart, or Merle Haggard's The Bottle Let Me Down. Don Rich (Buckaroos guitarist) holds a special place for me too. I also got into Brent Mason, a modern country studio pro. He's amazing. He specifically talks a lot about Jerry Reed. Jerry is a Chet Atkins protege, but with a way more funky, soulful style. Another modern country guy I've checked out a bunch is Jimmy Olander of Diamond Rio.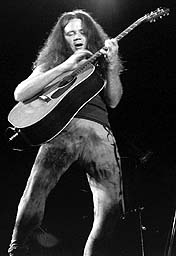 So, returning to the chronology somewhat, I got into new age guitarist Michael Hedges (at left) around 1994 and onward. He plays a D28 and truly innovated with acoustic guitar. Until 1997, I had let guitar get away from me to finish college. But as working guy, I had more time and money. I aimed to develop a unique rhthym style and started to check Hedges' influences. He cited Leo Kottke. So I checked out Leo, the 12 string pioneer. He admired Pete Seeger. Folk singer. So at this time, I wanted to write songs and became inflamed with singer/songwriter music. The songwriters did a lot of finger picking. Hedges and Kottke developed it to a fine art. I got real close to guys like Townes Van Zandt and Guy Clark. Other songwriters have their own quirky style that didn't turn me on, like Lyle Lovett, John Prine.
The country lead style never left my consciousness. I supposed that bluegrass was a root of fast country music. I thought those songs, with solos on an acoustic would translate to the style I sought in country. Echoes from all aspects of my interests, the pursuit of roots. It was only then, in 2002, did I recognize the difference between bluegrass and country. Anyway I started to sing bluegrass songs and play bluegrass rhythm, which I studied intently from Tony Rice and (by my estimation of Tony's song selection) his hero Jimmy Martin. I still can't flatpick worth a damn, but if I could, I would try to phrase like Clarence White, as Tony does often. It still seems to me that bluegrass flatpicking is the primary building block that my Telecaster playing is missing. A case could easily be made that Clarence White originated the style from his prowess as a flatpicker transferred to his Tele with The Byrds in about 1967.
Flatpicking frustated me, and instead, I've feverishly pursued mandolin since 2003. It just clicks for me. I got into bands playing it, my first bands ever, in February 2005! That directly led to getting together with Hellbound Glory (on mandolin, seriously, for one show). Holy shit, by August 2005, I was playing lead guitar in a great band. I had great material to work with as Johnny Fingers had played and recorded with them previously and laid down a lot of kick ass solos for me to copy. But I didn't get my Tele groove as hoped. I sensed strongly the band needed a bass player that was committed to country. I offered to learn bass and maybe start working me in as the bassist by January of 2006. Yet I found myself on stage, playing bass with almost no training or practice on October 30, 2005. I played only 8 shows on my Telecaster before learning and permanently switching to bass. I'm up to 22 shows on bass now. So in the unlikely event that you see the show and end up here, well I guess it's either a surprise or explains a lot.
Here's who I've mentioned and a track that typifies what I love about them


| | | | |
| --- | --- | --- | --- |
| Artist | Track | Album | Year |
| Jimi Hendrix | The Wind Cries Mary | Are You Experienced | 1967 |
| Stevie Ray Vaughan | Texas Flood | Texas Flood | 1983 |
| Buddy Guy | The First Time I Met The Blues (live) | The Very Best of Buddy Guy | probably late 60's |
| Robert Johnson | 32-20 Blues | Complete Recordings | 1936 |
| Elmore James | Rollin' and Tumblin' | The Sky Is Crying | 1967 |
| Otis Rush | All Your Love | Otis Rush 1956-1958: Cobra Recordings | 1957? |
| Hubert Sumlin | Spoonful | Rocking Chair (Chess 1469) [Howlin' Wolf] | 1962 |
| Chuck Berry | 30 Days | The Great Twenty-Eight | 1957? |
| Albert Lee | Sweet Little Lisa | Repeat When Necessary [Dave Edmunds] | 1980 |
| James Burton | Open Up Your Heart | Open Up Your Heart [Buck Owens] | 1966 |
| Jimmy Bryant | Arkansas Traveler | Stratosphere Boogie | mid 1950's |
| Don Rich | Gonna Have Love | Before You Go / No One But You [Buck Owens] | 1965 |
| Brent Mason | Mercury Blues | A Lot About Livin'... [Alan Jackson] | 1992 |
| Jerry Reed | Amos Moses | Georgia Sunshine | 1970 |
| Jimmy Olander | Mirror Mirror | Diamond Rio | 1991 |
| Michael Hedges | The Unexpected Visitor | Breakfast In The Field | 1981 |
| Leo Kottke | Busted Bicycle | 6 and 12 string guitar | 1969 |
| Pete Seeger | Living' In The Country | Pete Seeger's Greatest Hits | 19?? |
| Townes Van Zandt | Greensboro Woman | High, Low, and In Between | 1972 |
| Guy Clark | L.A. Freeway | Old No. 1 | 1975 |
| Tony Rice | Hold Whatcha Got | Manzanita | 1979 |
| Jimmy Martin | On and On | Bill Monroe, Bear Family 1950-1958 | 1956? |
| Clarence White | Nine Pound Hammer | Appalachian Swing! [The Kentucky Colonels] | 1964 |
| Johnny Fingers | White Trash Chicks on Speed | Whiskey Dick [The Saddle Tramps] | 2002 |
Two honorable mentions: John Doyle, Irish rhythym picker. I got into his style after seeing him in 1994. Many years later, he's playing backup for a favorite dude, Tim O'Brien. Next mention: Wayne Moss, who played those great solos on early Waylon Jennings recordings (like Only Daddy That'll Walk The Line). I think that's the bulk of the guitar players. Whew.